Shalya Tantra :
Introduction :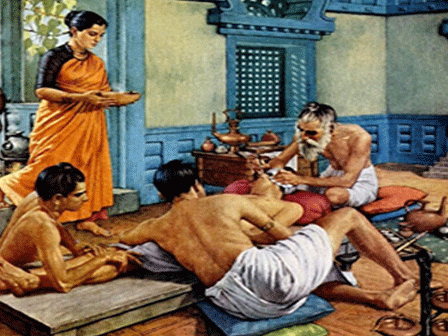 Shalyatantra is one of the distinct branches of Ashtang Ayurveda. Ayurvedic shalyatantra explains and demonstrates surgical knowledge and procedures that were performed and used since thousands of years and are useful even today.
Now a days world is turning to Ayurved for comprehensive treatment of diseases. Surgical knowledge and treatments of disease described in shalyatantra can be researched and used in diseases with minimum complications and side effects. Maintained its importance even today, wound healing has imfact gained more importance.
The scope of this department has reached into Orthopedics, Surgery and para-surgical techniques. The main focus of the department is to make the students aware of the fundamentals of surgical diseases, various disabilities and deformities, traumas, fractures, congenital and acquired illnesses etc.
Facility in the Department :
Have the good library in that library all types of surgical books available.
Have the basic knowledge and surgical principles described in shalya tantra by various acharyas.
Have 1 presentiton hall in that we discuss about cases.
Have all types of surgical instuments.
Have all types of organs samples with museum.
Have medicine samples.
Have separate cabin all teachers and HOD and P G students.
Shalya tantra department have good teaching staff are available.
All the staff is experienced and specializes in surgical field.
Equipment and Instruments: Operation Theatre
| Sr.No | Equipment and Instruments | Details on College Website |
| --- | --- | --- |
| 1. | Spotlight (Shadow less ceiling fitted) | Two |
| 2. | Needle holding Forceps(big-medium-small) | Assorted |
| 3. | Dressing drums of Assorted size | Assorted |
| 4. | Drum stand | Assorted |
| 5. | IV Stand | Two |
| 6. | Cheatles Forceps | Foue |
| 7. | Mosquito forceps | Twelve |
| 8. | Scissors straight(Tailor) | Four |
| 9. | Scissors curved of different sizes | Five each |
| 10. | Stitch rem oval scissors | Five each |
| 11. | Dissection forceps | Four |
| 12. | Sinus Forceps | Four |
| 13. | Probes-Assorted size | Five each |
| 14. | Pointed scissors | four |
| 15. | Abdominal Retractors | Five |
| 16. | Tissue Forceps | Five |
| 17. | BobKock's Forceps | eight |
| 18. | Kocher's Forceps | Seven |
| 19. | Urethral Dilators | Five each |
| 20. | Metal Catheters | seven |
| 21. | Sponge holding forceps | Eight |
| 22. | Right Angle cholecystectomy Forceps | four |
| 23. | Stone holding forceps | Four |
| 24. | Allies Forcep ssmall | eight |
| 25. | Allies Forceps Big | Five |
| 26. | Artery Forceps small | Twenty |
| 27. | Artery Forceps big | Ten |
| 28. | Artery Forceps Medium | ten |
| 29. | Sigmoidoscope Rigid/flexible | One |
| 30. | Barron Pile's Gun | Two |
| 31. | Laryngoscope Pediatric/Adult | Two |
| 32. | Boyles Apparatus | Two |
| 33. | Multi-parameter Monitor | One |
| 34. | Ambu Bag | Two |
| 35. | Suction machine Electrical or Manual | Two |
| 36. | Skin grafting knife with handle | Assorted |
| 37. | Surgical blades of different size | Assorted |
| 38. | Self-Retaining Retractor | Assorted |
| 39. | Bone cutter | Two |
| 40. | Gigli Saw | two |
| 41. | Scoop | Assorted |
| 42. | Periasteum elevator | Two |
| 43. | Maggles Forceps | Assorted |
| 44. | High Pressure Autoclave | One |
| 45. | Nitrous Oxide Cylinder | Two |
| 46. | Hydrolic Operation Table | One |
| 47. | Boyle's Apparatus | Two |
| 48. | Instrument Trolley | Assorted |
| 49. | Endotracheal Tube | Assorted |
| 50. | Proctoscope with or without illumination | Two |
| 51. | Gabrial Syringe | One |
| 52. | Strecher with trolley | Two |
| 53. | Suction Machine | Assorted |
| 54. | Emergency power backup facility | Assorted |
| 55. | Emergency light | Four |
| 56. | Fire Extinguisher | Two |
| 57. | BP Apparatus | Assorted |
| 58. | Fumigator | Assorted |
| 59. | Refrigerator | Assorted |
| 60. | X-ray View Box(double) | Assorted |
| 61. | Revolving Stool | Assorted |
| 62. | Vertica lBP Instrument | Assorted |
| 63. | Rubber catheters of Assorted size | Assorted |
| 64. | Corrugated rubber drain | Assorted |
| 65. | Suturing Needle(straight/curved)of Assorted size | Assorted |
| 66. | Surgical Thread | Assorted |
| 67. | BP Handle of different size | Assorted |
| 68. | Needle holder | Assorted |
| 69. | Ophthalmic Operation table with Headrest | One |
| 70. | Sterilizing box/case with matts | Assorted |
| 71. | Lens insertion Forceps | Assorted |
| 72. | Keratome | Assorted |
| 73. | Desmarre slid retractors | Assorted |
| 74. | Cat-paw lacrimal retractor | Assorted |
| 75. | Mueller lacrimal sac retractor | Assorted |
| 76. | Dastoor iris retractor | Assorted |
| 77. | Meyrhoefer Chalazion currete | Assorted |
| 78. | Sinsky lens manipulating hook | Assorted |
| 79. | IOL Manipulator | Assorted |
| 80. | Foreign body spud | Assorted |
| 81 | Lewis lens loop(vectis) | Assorted |
| 82. | Cysto tome and spoon | Assorted |
| 83. | Mule Evisceration spoon | Assorted |
| 84. | Iris repository(double-ended) | Assorted |
| 85. | Jameson muscle hook | Assorted |
| 86. | Wills cautery with copper ball-point | Assorted |
| 87. | Langs lacrimal sac dissector | Assorted |
| 88. | Kelly Glaucoma punch | Assorted |
| 89. | Elevator(double ended) | Assorted |
| 90. | Nasal speculum adult/child | Assorted |
| 91. | Wilder punctum Dilator | Assorted |
| 92. | Bowman lacrimal probes | Assorted |
| 93. | Hartman mosquito forceps | Assorted |
| 94. | Colibriforceps1*2teeth | Assorted |
| 95. | Mc.person corneal forceps with tying platform | Assorted |
| 96. | Dressing forceps, serrated | Assorted |
| 97. | Moor field conjuctival forceps | Assorted |
| 98. | Fixation forceps | Assorted |
| 99. | Beer cilea (epilation)forceps | Assorted |
| 100. | Arruga capsular forceps | Assorted |
| 101. | Snellen Entropion clamp | Assorted |
| 102. | Chalazion clamps | Assorted |
| 103. | Vannas straight scissors | Assorted |
| 104. | Barraquer needle holder | Assorted |
| 105. | Air injection cannula | Assorted |
| 106. | Healona spirating cannula | Assorted |
| 107. | AC washout cannula | Assorted |
| 108. | Lacrimal cannula | Assorted |
| 109. | Hydrodialysis cannula | Assorted |
| 110. | J-loop cannula(Right/Left With silicon tubing) | Assorted |
| 111. | Simcok direct I/A cannula with silicon tubing | Assorted |
| 112. | Irrigating aspirating handle | Assorted |
| 113. | Lens dialer | Assorted |
| 114. | Superior Rectus forceps | Assorted |
| 115. | Eyewash glasses(for Tarpana Karma) | Assorted |
| 116. | Swimming Goggles(for Tarpana Karma) | Assorted |